News Archive
Newsletter YAESU Neuigkeiten und Angebote !!!

GIANORA-HSU_Newsletter_YAESU Neuigkeiten und Angebote.pdf (547.8 KiB)
Kostenlos DR-2XE !!!
YAESU DR-2XE Club Promotion !!!
Kostenlos DR-2XE !!!



Kaufen Sie mind. 20 Stück FT-3DE oder FTM-400XDE bis 30. Juni 2020 und erhalten Sie ein DR-2XE Gratis

DR-2X.pdf (2.5 MiB)
YAESU SCU-LAN10 UNIT for FTDX101 Series
"HF Special 2020" CASHBACK PROGRAM (UK & EUROPE)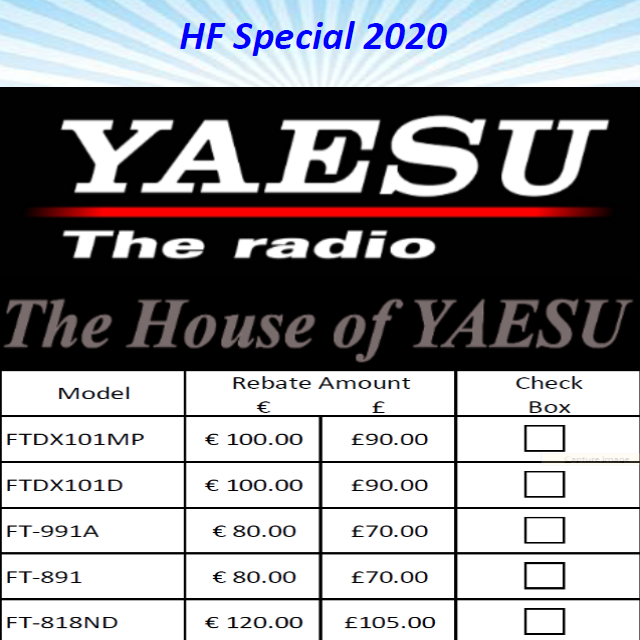 YAESU FTM-300DE 50W C4FM/FM 144/430MHz Dual-Band Digital Mobile Transceiver
YAESU FTM-300DE 50W C4FM/FM 144/430MHz Dual-Band Digital Mobile Transceiver

Digitaler und analoger Dualband-VHF/UHF-Transceiver C4FM/FM mit 50 WHF-Ausgangsleistung und einem 66-Kanal-Hochgeschwindigkeits-GPS.
Ausgestattet mit einem hochauflösenden 2-Zoll-QVGA-Farbdisplay.
Echter Dual-Band-Betrieb dank zweier unabhängiger Empfänger mit gleichzeitiger A- und B-Band-Monitorfunktion in C4FM. WiRES-XKonnektivität als tragbarer digitaler Knoten und fester Knoten.



C4FM/FM digital and analog dual band VHF/UHF transceiver, with 50W RF power output and a 66 channel high speed GPS. Equipped with high resolution 2-inch QVGA coloured display. Real Dual Band
operations thanks to two independent receivers with simultaneous A and B band monitor function in C4FM. WiRES-X connectivity as Portable Digital Node and Fixed Node.


Verfügbarkeit: Mitte Mai 2020
"Late Winter Warmer Special" CASHBACK PROGRAM (UK & EUROPE)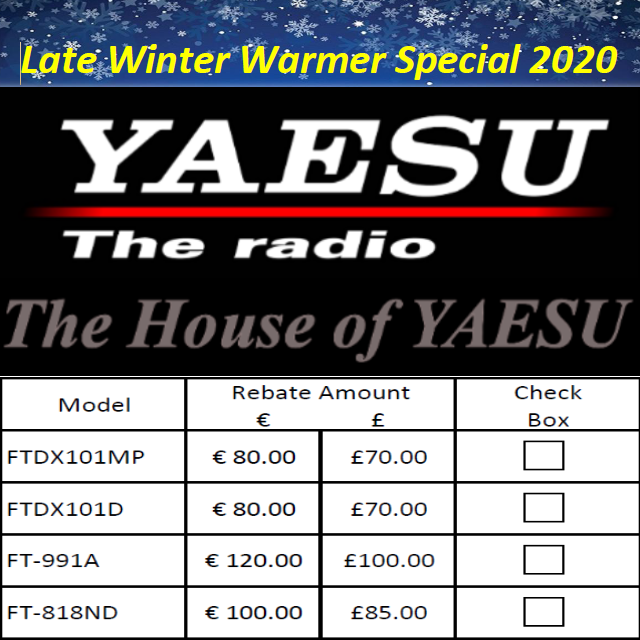 New FT3DE Firmware !!!
New SunSDR2 DX Weihnachtsangebot !!!
SunSDR2 DX DIRECT SAMPLING HF/6M/VHF 100W TRANSCEIVER


The SunSDR2 DX transceiver based on the well known SunSR2 PRO transceiver with several hardware impovements. A 100W HF, 50W 6M, 8W VHF transceiver, very compact, with a separate connector for active cooling and an improved supply system, perfectly suited for DXpeditions. Separated GPS/GLONASS antenna and ATU connectors. improved hardware along with the ExpertSDR2 software makes it the perfect base station, an evident choice for a true contester!

Hardware Improvements

Improved suppy system. less heating and power consumption

HPF for VHF (100 MHz) and LPF for HF (70 MHz)

Better VHF LNA chip - PGA103+

Sturdy DIP-type ExtCtrl connector

Improved PCB design

Feautures

2 HF antenna connectors and a separate VHF connector

ExtCTRL connector to control external devices with with 8 powerful keys with open collector

ALC connector for external power amplifiers

Supports use of VHF transverters

Operating Manual

100W HF; 50W; 8W 2M

Professional TX processing module

TCI interface

Remote control -RX and TX

SO2R/SO2V modes

10 ms CW MON delay

High-performance DSP module

User friendly ExpertSDR2 software

Windows, macOS and Linux support

Spezielle Offerte: 1'999.- CHF mit 500.- CHF Vorauszahlung


(bis Ende Dezember 2019 gültig)

Verfügbarkeit: Ende Januar 2020

Newsletter Weihnachtsrabatte !!!
Weihnachtsrabatte !!! bis 31.12.2019
5% Rabatt auf diverse Artikel aus unserem Sortiment (solange Vorrat)

GIANORA-HSU_Newsletter_Weihnachtsrabatte.pdf (129.7 KiB)
Ham Radio | Signalink + Yaesu 891 + WSJT + FT8 Digital on Raspberry Pi 4