News Archive
FT-710: Frequenzerweiterung Jetzt Möglich !!!
Es ist nun möglich, die Frequenzerweiterung auf dem FT-710 durch eine HW-Modifikation zu implementieren, indem die neueste Firmware installiert wird.
Il est maintenant possible d'implémenter l'expansion de fréquence sur le FT-710 via une modification du HW en installant le dernier firmware.
Adesso è possibile implementare l'espansione di frequenza sull'FT-710 tramite una modifica HW avendo installato l'ultimo firmware.
NEW MICROSET POWER SUPPLY !!!
NEW YAESU FTM-500DE !!!
FTM-500DE 50W, C4FM/FM, 144/430MHz

Front Speaker, with AESS* Dual Speaker System

9W Total Powerful Audio Output

2.4" High-Resolution Full-Colour Touch-Panel Display
Innovative Smart Operating System with TOUCH & GO / SEARCH & GO Functions
TOUCH & GO enables initiating communications quickly by touching the target frequency
SEARCH & GO enables Dual-Receive of a desired frequency during Main channel operation
MAG Memory Auto Groupig
VFO Band Skip Function

Single-Touch Spectrum Scope Function

High Speed Band Scope

1104 Memory Channels

Built-in 66ch High Precision GPS Receiver

1200/9600bps APRS Data Communication

Wireless Operation Capability with a Bluetooth Headset
WiRES-X Portable Digital Node or HRI-200 Fixed Node Capability
Voice Recording of the received and transmitted Signal
50W Stable High-Power with Heavy Duty Sink and Funel Air-Convection Conductor (FACC)
MicroSD Card Slot (up to 32GB)

Specifications

| | |
| --- | --- |
| | |
| | |
| | |
| | 137 - 174MHz (HAM / VHF Band) |
| | |
| | 400 - 480MHz (HAM / UHF Bad) |
| | Double-Conversion Superheterodyne |
| Modulation Type | F1D, F2D, F3E, F7W, 4FSK (C4FM) |
| | |
| | |
| | |
| | Controller: 156 x 64 x 58.6mm |
| | |
NEW KENWOOD RADIO !!!
SunSDR2 DX der 5. Generation jetzt da !!!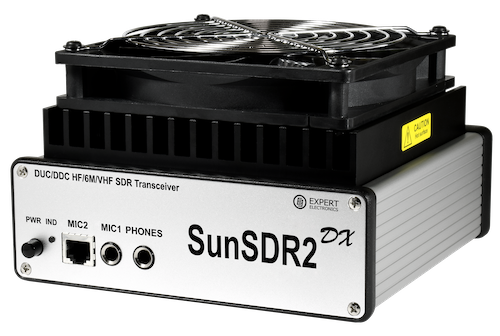 Redesigned heatsink, with thinner and more frequent gills for higher effectiveness
Improved temperature sensor placement for more accurate temperature readings
Improved TX IMD3 up to ~37 dB across all HF bands, with 100W output power
6M output power have been increased up to 80W
Improved SDR PCB protection from cross-talks. Improved protection for the supply chain
Added ferrite bead on the flex-cable connecting PA and SDR PCBs, for more stable operation with external ATU
Added filtering of the headphones' connector
Slight improvement of the RX path
Redesigned TX filter of the DAC chip, which provides better linearity of the TX signal
Redesigned band pass filter on the PA input, which improves linearity of PA operation
Improved structure of 160, 6M TX filters
RX/TX switching node on PCB is more resilient now
Preis 2550.- CHF
End of Production FTM-400XDE and FT-818ND
Please be informed that the production of the FT-818ND and FTM-400XDE will be discontinued.
The decision has been forced due to difficulty related to the availability of some components.
Please be assured that we will continue supporting the existing owners of the FT-818ND and FTM-400XDE by providing the repair parts and some of accessories long after production has ended.
Neue Koax Adapters !!!
Signalink neue Kabel !!!
NEW ExpertSDR3 1.0.0 Beta
ExpertSDR3 1.0.0 Beta is designed for MB1, SunSDR2 DX/PRO/QRPtransceivers and ColibriDDC, ColibriNANO receivers.

Server software ALPHA build 20221028 is designed for MB1, SunSDR2 DX/PRO/QRP transceivers and ColibriDDC, ColibriNANO receivers.

Please note that this is a beta version, the ExpertSDR3 is still under development. The ExpertSDR3 software is provided on an "as is" basis.

Expert Electronics will not be liable for any loss, suffered by the user as a result of their use of the ExpertSDR3software. You use the software at your own risk and will be solely responsible for any damage to a transceiver/receiver or connected external devices that results from such activities.

Should you encounter any bugs, glitches, or other problems, please fill in thebug report.
Your help in this regard is greatly appreciated!
NEW YAESU FT-710 AESS HF/50MHz SDR Transceiver !!!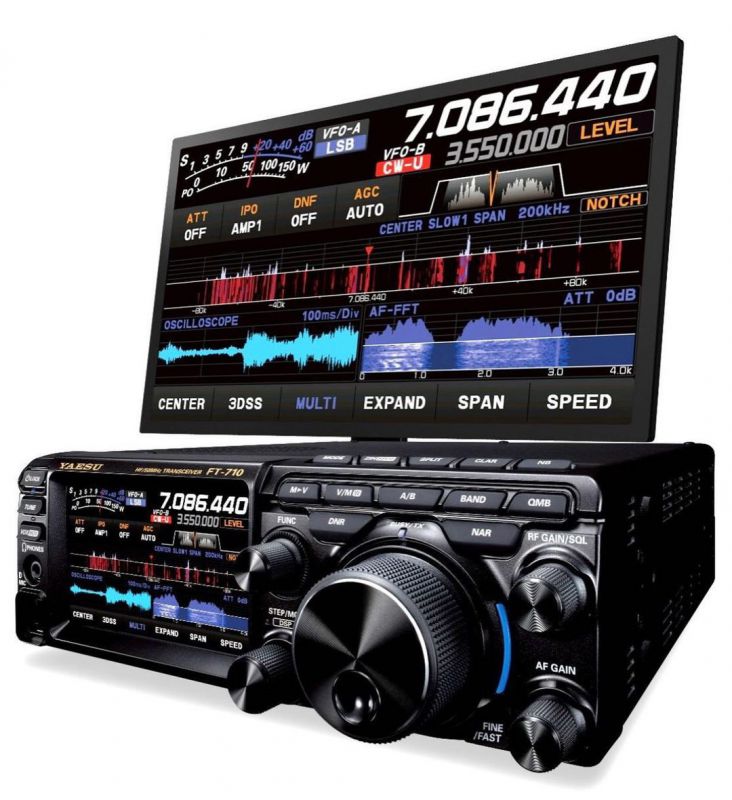 - YAESU Unmatched SDR technology emphasizes the Receiving Performance
- Band Pass Filters dedicated for the amateur bands to eliminate out-of-band unwanted signals
- RF Front-End design with the 250MHz HRDDS (High Resolution Direct Digital Synthesizer) enables phenomenal Multi-Signal Receiving Characteristics
- QRM rejection by the dual core 32-bit high speed floating decimal point DSP for SHIFT/ WIDTH/ NOTCH/CONTOUR/APF (Audio Peak Filter)/ DNR (Digital Noise Reduction)/ NB (Noise Blanker) and 3-Stage Parametric Equalizer
- High Resolution 4.3-inch TFT Color Touch Panel Display
- 3DSS (3-Dimensional Spectrum Stream)
- VMI LED (VFO Mode Indicator) placed around the VFO dial shows the current operating mode (VFO-A, VFOB, Memory Mode and Clarifier/Split Operation)
- "PRESET" Mode Function most suitable for FT8 Operation
- AESS: Acoustic Enhanced Speaker System with SP-40 creates the high-fidelity audio output
- External Display Connection Terminal (DVI-D)
- Built-in High Speed Automatic Antenna Tuner with 100 channel memory
- Support the FC-40 Auto Antenna Tuner
- SD Memory Card can be used to save the communication record, transceiver setting, the memory contents, screen capture images, and to update the firmware
- Two (2) USB Ports (Type-A and Type-B)
- Other essential features such as CW ZIN and SPOT, IPO (Intercept Point Optimization), and Remote Operation with Network Remote Control System to name a few
Specifications
| | |
| --- | --- |
| | 1.8MHz band – 50MHz band (Amateur bands only) |
| | 70MHz – 70.5MHz (UK Amateur bands only |
| | 30KHz – 75MHz (Operating) |
| | 1.8MHz – 29.699999MHz (Specified performance, Amateur bands only) |
| | 50MHz – 53.999999MHz (Specified performance, Amateur bands only) |
| | 70MHz – 70.499999MHz (Specified performance, UK Amateur bands only) |
| | A1A(CW), A3E(AM), J3E(LSB/USB), F3E(FM) |
| | |
| | 5 - 100W (5 – 25W AM Carrier) |
| | 9.4" x 3.1" x 9.7" (239 x 80 x 247mm) |
| | |