News Archive
NEW! FT-65E VHF/UHF 2 Meter/70cm Dual Band FM Handheld
FT-65E VHF/UHF 2 Meter/70cm Dual Band FM Handheld

- Compact, light and rugged

- 5W / 2.5W / 0.5W

- Powerful speaker for clear audio

- 1950mAh Li-ion battery pack for 9 hours operations

- 2.5 hour rapid charger

- VOX operations

available in April

Expert Remote System
Remote control system - Expert Remote, utilizes a client - server connection. PC with the installed ExpertRemoteServer (ExpertRS) (for MB1 users, ExpertRS should be installed on the MB1) connected
to any Expert Electronics device (one or several) used as a server.
Server's PC connected to a router with an access to the Internet.
PC with the installed ExpertRemoteClient (ExpertRC) used as a client. Also you may use WEB-browser (HTML5) on your PC/tablet/mobile.
How it works:
ExpertRS server - software receives a high-speed stream of quadrature channels from the receiver(s), processes the signals, calculates spectrum for panorama, demodulates received signal in the RX bandwidth and sends it via local network and/or Internet to the ExpertRC client - software. Before sending the received signal, it is compressed by the server-software. Data traffic of the received signal equals 30 - 50 Kbit/s. Panorama data is also being compressed and sent to the client-software along with the received signal. Panorama data traffic equals to 30 - 950 Kbit/s. Data transfer protocol of the remote control system also includes receiver's control commands for all parameters (change frequency, modulation types, control of DSP functions, compression quality, etc.). Total Internet traffic equals 60...1000 Kbit/s and depends on the level of the signal compression and panorama quality in the client-software window
SunSDR2 PRO Update With Many Enhancements
ExpertSDR2 version 1.1.3 with many enhancements and fixes for your SunSDR2 PRO, MB1 and ColibriDDC has been released after a long period of testing. With this version remote control is also introduced for both SunSDR2 PRO and ColibriDDC.
Here are a few highlights of new features and fixes for all devices.
Added option to set the power and modulation meters to show peak or RMS values
Improved antenna and RX antenna switching
Rebuilt audio processor with compression threshold setting, compressor parameters now saved in profiles
Added new presets for the E-Coder in Panel settings
Added Audio Peak Filter (APF) for SSB
Improved CW Keying via com ports
Improved waterfall to display fast signals, improved rendering for less CPU load
Added automatic SPLIT disable when changing the frequency band or mode
Added global volume control to CAT
Improved VOX and fixed bug when switching to RX
Added saving RF level per mod
Added mixer presets for VFOA/VFOB in E-Coder panel
For detailed information and device specific updates, see the update log at the end of this posting.
Remote Control
Remote control for SunSDR2 PRO and ColibriDDC has finally arrived! The highly efficient protocol for remote control being introduced today enable you to connect and operate your SunSDR2 PRO or ColibriDDC device over almost any internet connection like ADSL broadband, mobile 3G and 4G networks, long range WiFi links etc. The connection can be customised for bandwidths between 70 kbps to 1 Mbps per receiver including both audio and full panadapter view.
Remote control client for PC and HTML5 compatible web browsers including mobile browsers
Remote control server applications for Windows and Raspberry Pi3
Get the update today!
The new ExpertSDR2 version 1.1.3 can be downloaded from our download page now. When upgrading from 1.1.2 or beta/rc versions make sure to also update the firmware if this isn't done automatically when starting version 1.1.3 the first time. This is done in OPTIONS > EXPERT by pressing the FIRMWARE UPDATE button.
Detailed update log
1.1.3 beta
General changes
Fixed bug frequency memory panel, incorrect sort of the stations column;
Stereo-RX indicator for WFM stations was added to the panorama.
MB1
Added stereo WFM;
In DSP settings was added switching of the region for WFM;
Fixed bug for VAC initialisation.
SunSDR2
Fixed bug for VAC initialisation.
ColibriDDC
AddedAPF and DSE;
Upgraded WFM demodulator.
1.1.3 beta2
General changes
Fixed bug, while changing the frequency with the E-Coder panel, tuning steps were incorrect;
Optimized TX/RX switching;
Tuning step of the filter over the panorama now always equals 10 Hz;
With the LOCK enabled, RIT tuning is unlocked, but XIT is locked.
MB1
Fixed bug, voice mic rec indicator on the front panel wasn't active;
Fixed bug freezing of the front panel;
Added VHF LNA indicator;
Enable VHF LNA by the long press of the ATT button on the front panel;
Fixed bug, keyboard backlit wasn't active;
Fixed bug, lowered TX power in SSB.
1.1.3 beta3
General changes
In the E-Coder panel added possibility to enable APF;
In the power meter added pick power mode, in Options you can select wither mode (RMS or Peak): Options->Display->Indicators->Power meter.
Changed RX ANT functionality, in the antenna switch menu for each HF antenna input there is the RX ONLY button, now several antenna inputs could be locked for RX simultaneously;
Rebuilt audio compressor, added threshold slider;
Miscellaneous improvements and optimisation.
MB1
Updated ATU firmware;
Added ATU settings memory according to the tuned frequency;
ATU operating frequency from 1.8 MHz up to 30 MHz;
Added full functionality for the keyboard (secondary functions of the " 0-9, ".", ENT " buttons);
Added bandscope control from the front panel
For the F1-F10 buttons added 4 functions: switching the RX antenna on the certain antenna connector: RX A1, RX A2, RX A3, RX A4
For the F1-F10 functional buttons added function enable Speaker.
Note:
Band scope control from the front panel is carried out with MULTI1 / MULTI2 / MULTI3.
MULTI1 doubled knob controls adjustment of the lower and higher limits of the spectrum scope.
MULTI2 doubled knob controls panorama zoom and zoom center marker.
MULTI3 doubled knob controls bandscope central frequency.
Press and hold one of the F1-F10 functional buttons (which is assigned to enable bandscope) to enable/ disable control of the bandscope. The function could be enabled only with active bandscope. When the function is enabled, blue IND2 indicator on the front panel is active. If any local panel is active, then the knobs will either control the settings adjustments or inactive (depends on the local panel).
When all 4 antenna connectors are assigned on the F1-F10 functional buttons, they are active with inactive RX IN and vice versa.
When HF band is active, all four functions are active.
When VHF band is active, only two: RX A1 and RX A2 are active, because there are 2 VHF connectors.
vna/J 3.1.12
NEW !!!! Expert Electronics Dealer für die Schweiz
SDR Transceivers

• Receive frequency range: 9 kHz – 65 MHz & 95 – 148 MHz
• Direct HF sampling receiver (DDC, Direct Down Conversion)
• Transmit frequency range: all ham radio bands from 160m to 10m, plus 6m, plus 2m VHF (cofigurable)
• Direct synthesising of the transmit signal (DUC, Direct Up Conversion)
• 100 W transmit power on HF, 50 W on VHF
• Receiver with 16Bit ADC @160MS/s
• Two independent receivers with up to 312 kHz waterfall and spectrum width each
• Up to 80 MHz wide panorama spectrum width
• Extremely short latencies, ideal for CW, direct audio output on the transceiverwith 24 Bit DAC
• Input for external 10 MHz hi-precision clock
• Optional built-in antenna tuner (HF)
• Connections for transverter and external filters
• 7 programmable control and sequencer outputs (open collector)
• ALC input for automated adjustment of transmit power when using an amplifier
• Full and half duplex operation [1]
• Power supply, 100-240V AC input, 50/60Hz
• Built in computer with Mini-ITX Board (Intel Core i5 @3GHz, 8MB RAM, 128GB SSD, HDMI/DP, 4x USB3, 2x USB2, 1x GBit-LAN)
• 7" screen (1280 x 800 px resolution)
• Windows 10 installed ready to use
• ExpertSDR2 Software included in shipment, installed ready to use
• Extensible functions by any PC software (Decoder, Logger, Skimmer etc.)

5699.- CHF
6499.- CHF (mit ATU)

• Direct Sampling Transceiver

• Internal antenna switch - 2 HF antennas

• ALC connector for external power amplifiers

• External control connector with 10 open collector keys

• Galvanic isolation in LAN iinterface

• Polarity reversion protection

• Built-in power-meter HF/VHF bands

• Built-in SWR-meter HF band

• SO2R, SO2V modes

• Remote control operation

1499.- CHF


• For direct conversion is used a high speed ADC 125 MHz 14 bit
• Two independent receivers with 312 kHz bandwidth in 0.09-55 MHz frequency range
• Oversampling receiving up to 800 MHz
• Wide bandscope with bandwidth up to 60 MHz
• High quality 24 bit audio codec on board
• 7 programmable switches with open collector to control the external devices
• Interface to PC 100 Mb/s, supporting DHCP Server/Client or static IP address
• Low power supply voltage 5 V and current 0.7 A
• 10 MHz reference input
• Mute control for connecting to classical transceiver
• Small size
• ExpertSDR2 software is free, works under OS Windows, Linux

599.- CHF

NEW! YAESU DR-2XE C4FM/FM VHF/UHF Digital Repeater

- Modulation Modes: Conventional FM, C4FM Digital
- Automatic Mode Select (FM/C4FM)
- 3.5" Full Color Touch panle Operation
- Extremely reliable, high RF Output Power: 50 W / 20 W / 5 W
- Front panel microphone connector
- Advanced Operation: Remote control via rear panel Control I/O
- Dual Receive Operation
- Improved "News Station", sharing of voice and text messages
- Group Monitor
- Stable High Power Output with karge heat sink
- Commercial grade components for long-term reliable operation
- Internet-linked Multi-site Repeater System (IMRS)
(Available soon)
NEW! YAESU FT-891 HF/50 MHz 100 W All Mode Transceiver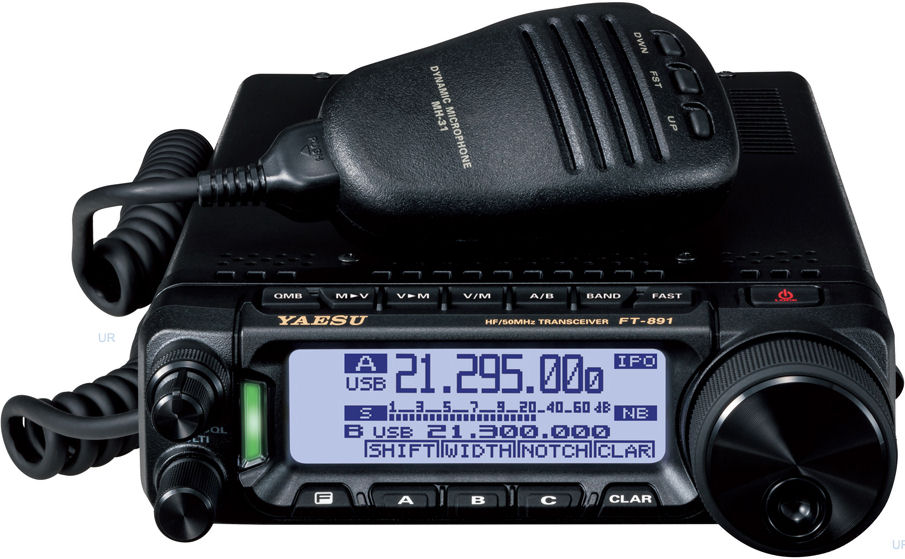 - Rugged construction and ultra compact (155 x 52 x 218 mm)
- Stable 100 W Power Output with dual interal fans
- Legendary Yaesu Receiver Design
- Triple conversion with a 1st IF frequency of 69.450 MHz
- 3 kHz roofing filter equipped as standard
- Detachable Front Panel for convenient mounting and operation
- Large dot matrix LCD display with Quick Spectrum Scope
- Ease of Operation
Large diameter Main Tuning Dial
Pop-up Menu for quick easy operation
Multi Function Knob
Large Transmit/Receive indicator
Three Programmable Front Panel Function Keys
- Specifically designed External Antenna Tuner FC-50 (option)
(Available soon)

NEW! FTM-3100DE CFM VHF Mobile Transceiver 65W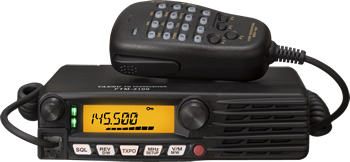 - 65W transmit power in FM
- Large LC display, backlit
- 220 memory channels
- Automatic Repeater Shift
- Transmitter from 144 to 146 MHz
- Receiver from 136 to 174 MHz
- DTMF Microphone with backlit keys
- Direct frequency entry with microphone
- CTCSS, DCS Squelch functions and signalling
- Hi stability ±2.5ppm TCXO built in
- Programming of memories and cloning over USB computer interface

(available in May 2016)
NEW! FTM-3200DE C4FM/FM VHF Mobile Transceiver 65W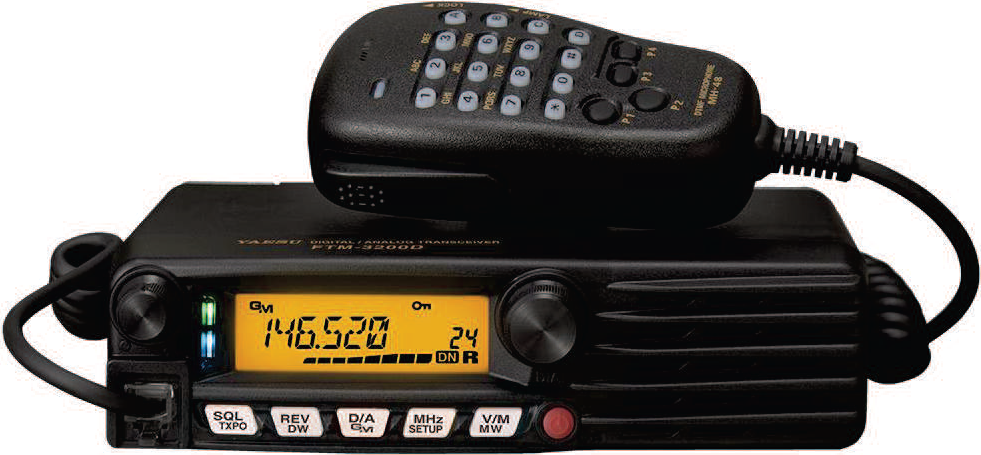 - 65W transmit power in FM and C4FM
- Automatic Mode Selection FM/C4FM
- Digital GM (Group Monitor) function
- Large LC display, backlit
- 220 memory channels
- Automatic Repeater Shift
- Transmitter from 144 to 146 MHz
- Receiver from 135 to 174 MHz
- DTMF Microphone with backlit keys
- Direct frequency entry with microphone
- DSQ, CTCSS, DCS Squelch functions and signalling
- Hi stability ±2.5ppm TCXO built in
- Programming of memories and cloning over USB computer interface

(available in May 2016)
NEW! Vertex Serie VX-260 und EVX-Link
Vertex Standard VX-261, VX-264 und EVX-Link

Die VX-260 Serie bietet die ideale Kombination aus Funktion und Leistung für mehr Effizienz, Zuverlässigkeit und Interoperabilität. Erfahren Sie, wie Sie mehr für Ihr Geld bekommen - mit Vertex Standard.
Eine Verbesserung der Reichweite ist mit EVX-Link einfacher als je zuvor. Dieses kleine und leichte System stellt die die neueste Entwicklung in der digitalen Technologie dar und bietet eine Lösung, die schneller, flexibler und kostengünstiger ist. Mit EVX-Link können digitale DMR-Funkgeräte an mehreren Standorten einfach miteinander verbunden werden. EVX-Link ist eine mobile und erweiterbare Lösung, die in nahezu jeder denkbaren Situation eingesetzt werden kann. Die Nutzer müssen keine Infrastruktur ersetzen oder einen Repeater verwenden. EVX-Link ist kosteneffizienter als traditionelle Systeme, da IP-Verbindungen genutzt werden können und es mit jeder digitalen DMR-Plattform funktioniert.